Sustainability

Materiality(Fundamental Initiative)

Materiality Planning Process
Materiality (Fundamental Initiative)
Promising sustainable growth to their shareholders, engaging in various business activities, whilst working towards a sustainable global environment and society.
For our stakeholders and Vision, it is important to specify the materiality (fundamental issue) and to actively tackle them.
The slogan "Symbiotic Growth" is the highest priority of the materiality and the guideline for all business-related activities.
To be able to achieve this symbiotic growth agenda, a materiality of fundamental activities and a materiality of value creation were created.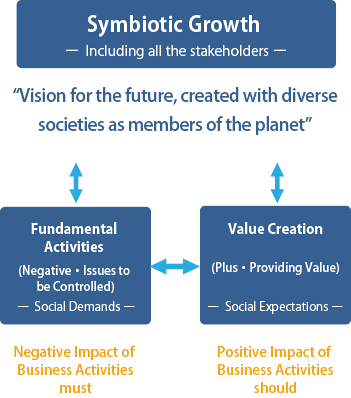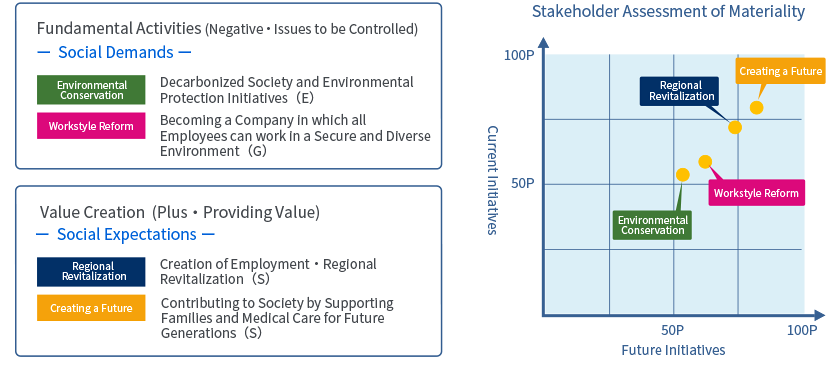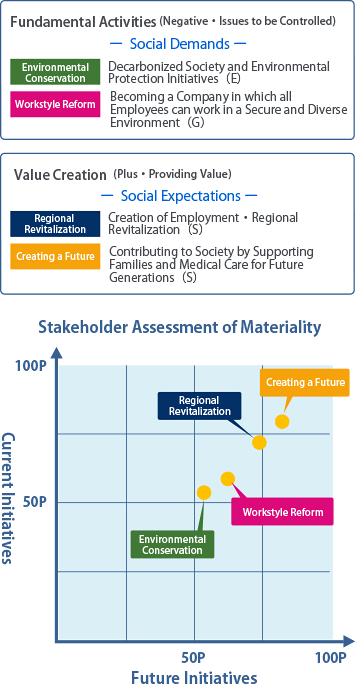 Fundamental Activities(Negative・Issues to be Controlled)ー Social Demands ー
As a company we must continuously and steadily grow, for the benefit of all our stakeholders.
However, the reality is that many of our businesses have a negative impact on the environment and society, such as greenhouse gas emissions.
Therefore, we are trying to find a solution on how to mitigate negative impacts while still being engaged in our regular business.
Decarbonized Society and Environmental Protection Initiatives (E)
Many businesses within a company unintentionally contribute to environmental destruction, by emitting carbon dioxide and other greenhouse gases.
Unfortunately, it is impossible for current technology to eliminate all these negative factors.
Therefore, we are working on our businesses to become decarbonized and to protect our society and the environment, whilst eliminating as many negative factors as possible.
Actions - Current Initiatives -
VWS Attendance Management / Legal Signature to be paperless contracts
Promotion of CO2 reduction through proposals to reduce electricity costs(LED, air conditioning, renewable energy)
CO2 reduction efforts using carbon offset products such as MFPs
Information disclosure through CDP and SBT certification
Installation of EV stations at glamping facilities
Actions - Future Initiatives -
Private power generators at glamping facilities (Solar energy, etc.)
Shifting from cans and bottles to "My Bottle"(Removal of vending machines)
In-house power generation and storage/development
Becoming a Company in which all Employees can work in a Secure and Diverse Environment (G)
Vision has a diverse workforce regardless of nationality, region, or disability status, both in Japan and overseas.
Vision considers all employees within the Vision Group to be important stakeholders.
Action - Current Initiatives -
Establishment of rules for shorter and more flexible working hours
Proactive efforts to promote women in the workforce (Eruboshi Certification 2-star approval)
Active promotion of maternity leave and implementation of paternity leave
Establishment of the Career Design Office and career support for employees
Action - Future Initiatives -
Establishment of employment support for families in need of nursing care, single-mother, and single-father families
Establishment of sales departments and products that enable women to play more active roles
Skill improvement by supporting the acquisition of qualifications
Introducing and operating a company-wide unified personnel evaluation system
Value Creation(Plus・Providing Value)ー Social Expectations ー
Vision not only takes on the challenge of the global environment and society but is also conscious of meeting the expectations of stakeholders and exciting customers.
We are constantly searching for new businesses that will have a positive impact on the environment and society, but also contribute to the future of all our stakeholders.
Creation of Employment・Regional Revitalization (S)
Vision does not limit its businesses to one region, but rather creates businesses all over Japan. Regions are constantly changing and they each have a rich and unique culture rooted within, ready to be discovered. We believe that by contributing to the revitalization of regional economies and at the same time increasing the mobility of these regions and cities, we can revitalize Japan as a whole.
Action - Current Initiatives -
Regional recruitment being possible through telework
Reducing food waste at glamping busiess
Promoting local products and tourism resources through glamping busiess
Actively employing people with disabilities, both in the Tokyo metropolitan area and rural areas
Action - Future Initiatives -
Expand local employment by introducing workcations and enforcing local hiring
Actively utilize local governments to attract new companies
Support the growth of local companies by strengthening cooperation and alliance
One-stop service to train local entrepreneurs
Contributing to Society by Supporting Families and Medical Care for Future Generations (S)
One of the major social issues Japan is facing is the declining birthrate and aging population. While there is no magic formula to fix this right now, we as members of society, must contribute to solving this issue. These challenges include educational and medical inequality. Vision is taking on the challenge of reducing these disparities and creating the future.
Action - Current Initiatives -
Creating a stable working environment for parents by providing Vision Kids nursery school
Providing Global WiFi to local governments (GIGA school program)
Promoting the establishment of online classes through rental services
Supporting Japan Heart(Japan-originated medical NGO) with Global WiFi devices and donating a portion of sales
Supporting the activities of the Peace Piece Project
Action - Future Initiatives -
Support students and young people by expanding the free use of Global WiFi
Operation/support of childcare and child welfare facilities
Operation of facilities for children with developmental disabilities, cooperation with local facilities
Support for customer-integrated NGOs