VALUES
From our origins in Fujinomiya City (Shizuoka Prefecture), we've now grown to providing services to over 200 countries and regions. With the continued hopes of "connecting one another, and connecting Japan to the World," we strive to continue to capitalize our growth upon our GLOBAL WiFi Service and Information and Communications Services.
Vision
More Vision,
More Success
Focus on the future. See what is coming next. That is why we are called Vision.
Smartphones have become established as daily necessities. The Internet, telephones, and other communication infrastructure are now having a major impact on people's lives and economic activities. However, it is also true that many social issues are occurring in the shadows of a rapidly changing world of information and communication. The strength of Vision lies in the fact that it has created new services based on a clear strategy to resolve such social issues, and has built a mechanism to soundly implement these services.
The name Vision incorporates our passion not only to solve issues for customers, but also to see beyond this and contribute to society.
DNA
Connecting People.
Connecting the World.
The starting point for Vision is solving information and communication issues
Vision's origin can be found in Fujinomiya City in Japan's Shizuoka Prefecture.
The first thing that Vision got involved in after it was founded in 1995 was international call service distributor business for foreign residents of Japan. The spur for this was when they heard concerns from their soccer friends who were overseas workers from South America about the cost of international phone calls being very high.
We want to connect people, and connect Japan to the world In order to make this idea a reality, Vision started out as a very international company with some members of their families as employees. Giving everything to resolve one's concerns or problems. This DNA has been inherited by its current businesses such as the GLOBAL WiFi Service (WiFi router rental business) that enables people to use the Internet easily anywhere around the world, and the information and communications services that provides communication infrastructure appropriate for the growth stage of a company.
Businesses
Dual-Purpose Business Structure
Customer Service
CAGR 22% Towards a further leap
From its foundation as an international telephone service seller to this day, Vision has maintained a high rate of growth while expanding the areas it does business in. The compound annual growth rate (CAGR) for sales from December 2015 to December 2019 is 22%. Against this backdrop of strong growth, the company was listed in the Mothers section of the Tokyo Stock Exchange in 2015, and then achieved a listing in the First Section in 2016. Vision will continue to aim for expanded business on new stages.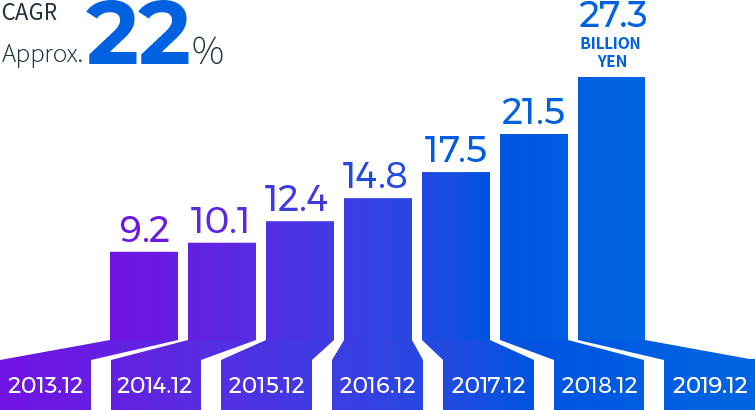 GLOBAL WiFi Service
The source of Vision's growth is the two businesses of GLOBAL WiFi Service and Information and Communications Services.
Vision's GLOBAL WiFi Service boasts a top class share in the industry.
To be chosen by customers, you must have a comprehensive capability that includes a large service area, a large number of counters for receipt and return, high communication quality, and reasonable prices. While at a glance this may seem like a business in which differentiation is difficult, it actually has large barriers to participation.
For example, some countries require companies to obtain a license to enter an alliance with a local carrier, and on top of this obtaining a license to set up a counter that is essential for increasing convenience for people going overseas is very difficult due to the fact that it has to be in a special location.
Furthermore, depending on the country, in some cases it takes a lot of time and effort to construct an operation that can provide stable communication quality on different networks, and to construct a profit model that can achieve profit while providing satisfaction to customers.
Clearing these hurdles and creating a service that provides customer satisfaction is something that Vision is capable of due to its long history in the communication industry and the high level of knowhow that it possesses. Vision already has service areas in more than 200 countries and regions around the world, and has the largest number of airport counters in the industry. Furthermore, in addition to high communication quality with security ensured, Vision has used its strength in terms of price competitiveness to achieve superiority in the industry.
Transition in the number of rentals after launch of the GLOBAL WiFi Service (Global total)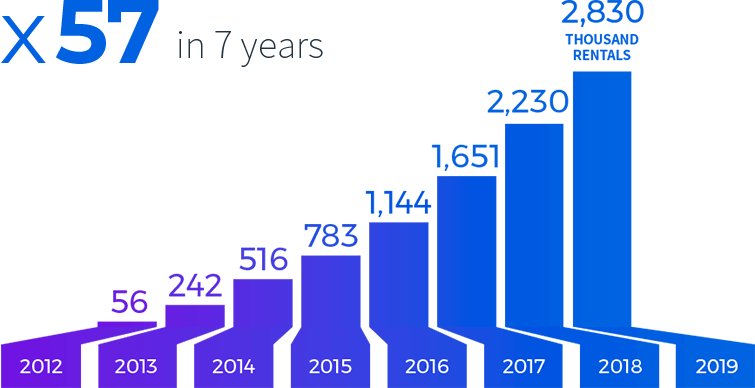 GLOBAL WiFi Service segment profit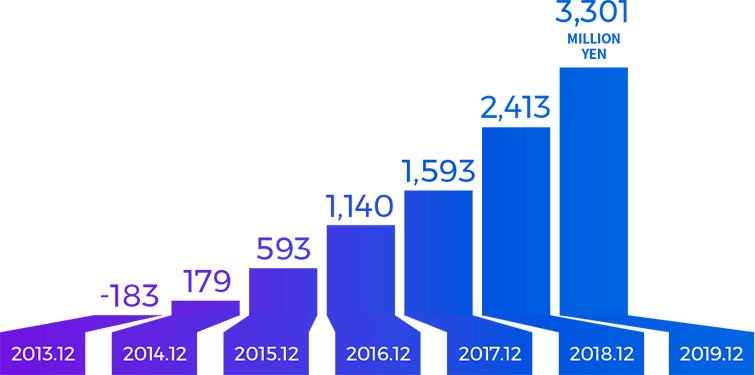 Information and Communications Service
Vision's information and communications service provides communication and IT infrastructure solutions mainly to new companies and venture companies. Vision gains a high level of customer satisfaction by providing services and products that are just right for a company's stage of growth, scale, and needs at the right price, and by continuing business dealings with customers over a long period, it has achieved stable growth.
Information and Communications Services segment profit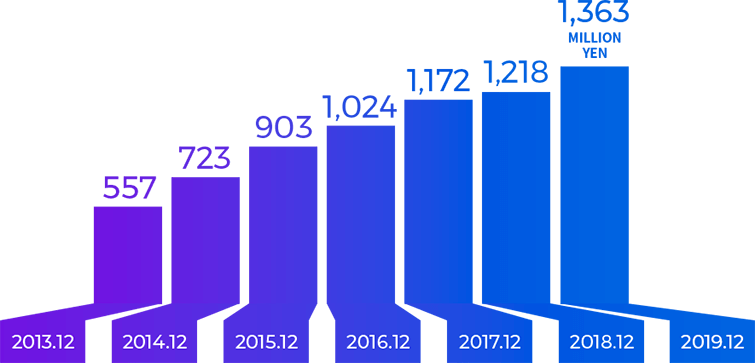 A deep and broad customer base achieves stable stock-type business
Vision has a high quality and rich customer base that is characterized by its broad range of corporate customers spanning everything from startups to majors. The number of annual rentals for GLOBAL WiFi® has reached 2.83 million (FY2019), and Vision is able to stay in contact with customers who have tried using the service. It has also acquired business with approx. one in ten new companies.
By providing services that ensure customer satisfaction to the customers accumulated in this way, Vision has achieved long-term business relationships. This stock-type business, which enables stable management, contributes to a solid financial basis.
NEXT